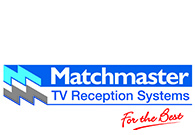 Matchmaster
Preferred Supplier
Matchmaster is a Quality Assured company, providing the Australian market with Heavy Duty antennas, installation hardware and system equipment. Our products enjoy a reputation for strength, performance and durability beyond any specification. Matchmaster continues to grow and provide the industry with the best technology and high quality branded products from local markets and abroad.
Matchmaster's Commercial Division not only handles technical enquiries, and System design of MATV/ SMATV and
CATV with our proprietary 'Netplan' design software, but are active participants in field inspections, tests and commissioning services.
Matchmaster also provides nationally accredited, industry recognized training programs across Australia and New Zealand. From the basic antenna installation to complex MATV systems, Satellite and Fibre Optics for television distribution, our courses provide the industry with the knowledge and skills to capitalize on a growing industry.
View our range of matchmaster products here